Summer Recipes with Letitia Clark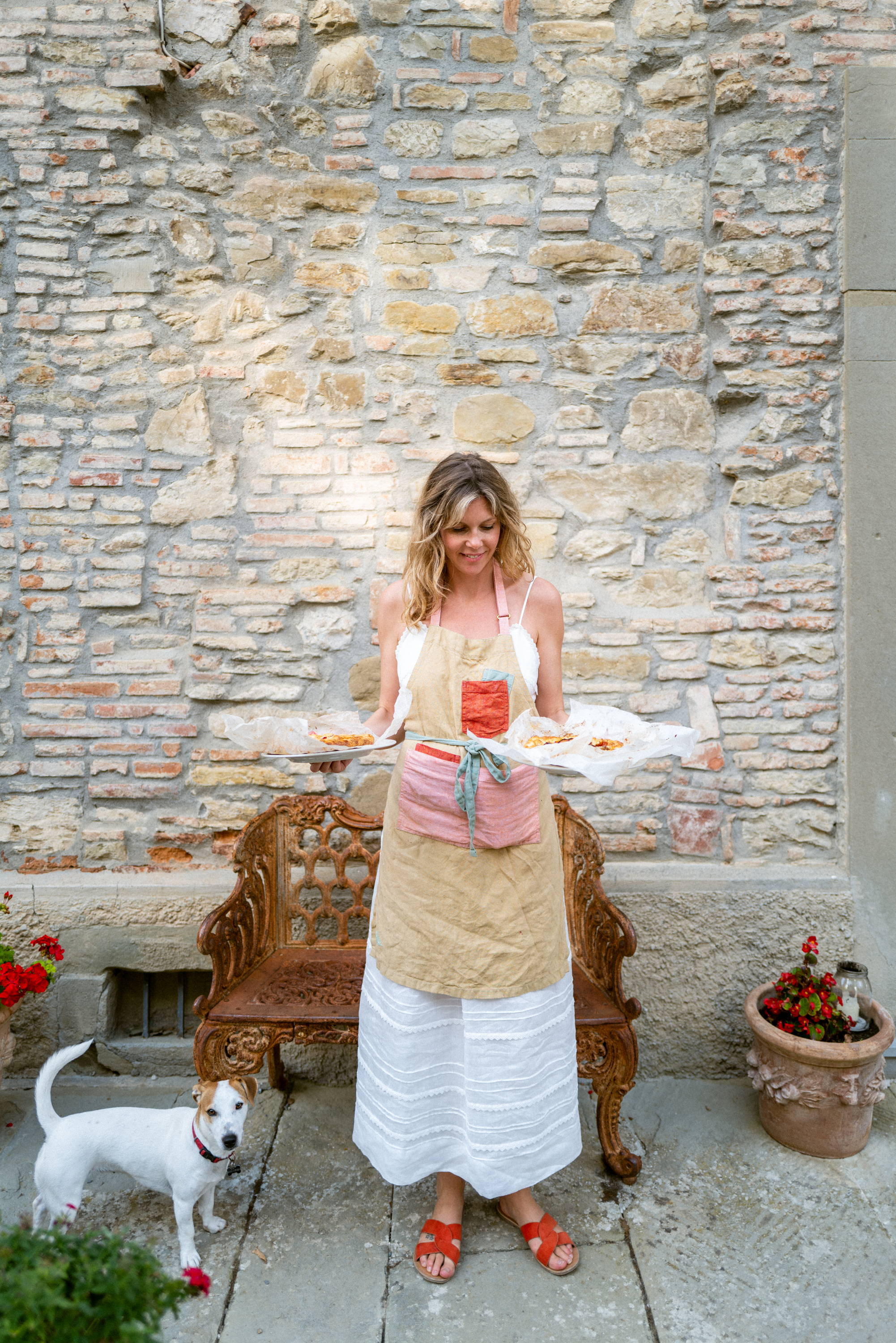 Summer RECIPES with LETITIA ClarK
LM WOMAN #54 / LETITIA CLARK
---
Summer calls for all things sweet. 
We visit author, chef and Illustrator Letitia Ann Clark at the BLAND Badger Retreat in Villa Pia, Italy, as she teaches a cookery workshop using wild herbs and the last of the local summer fruit.
Inspired by her home in Sardinia, Letitia shares two of her favourite summer deserts; Peach and Almond Cookies with Ricotta Cream and a Fresh Fruit Galette, as she reminds us that 'the moments when we get to eat something sweet are often the sweetest moments of all'.
---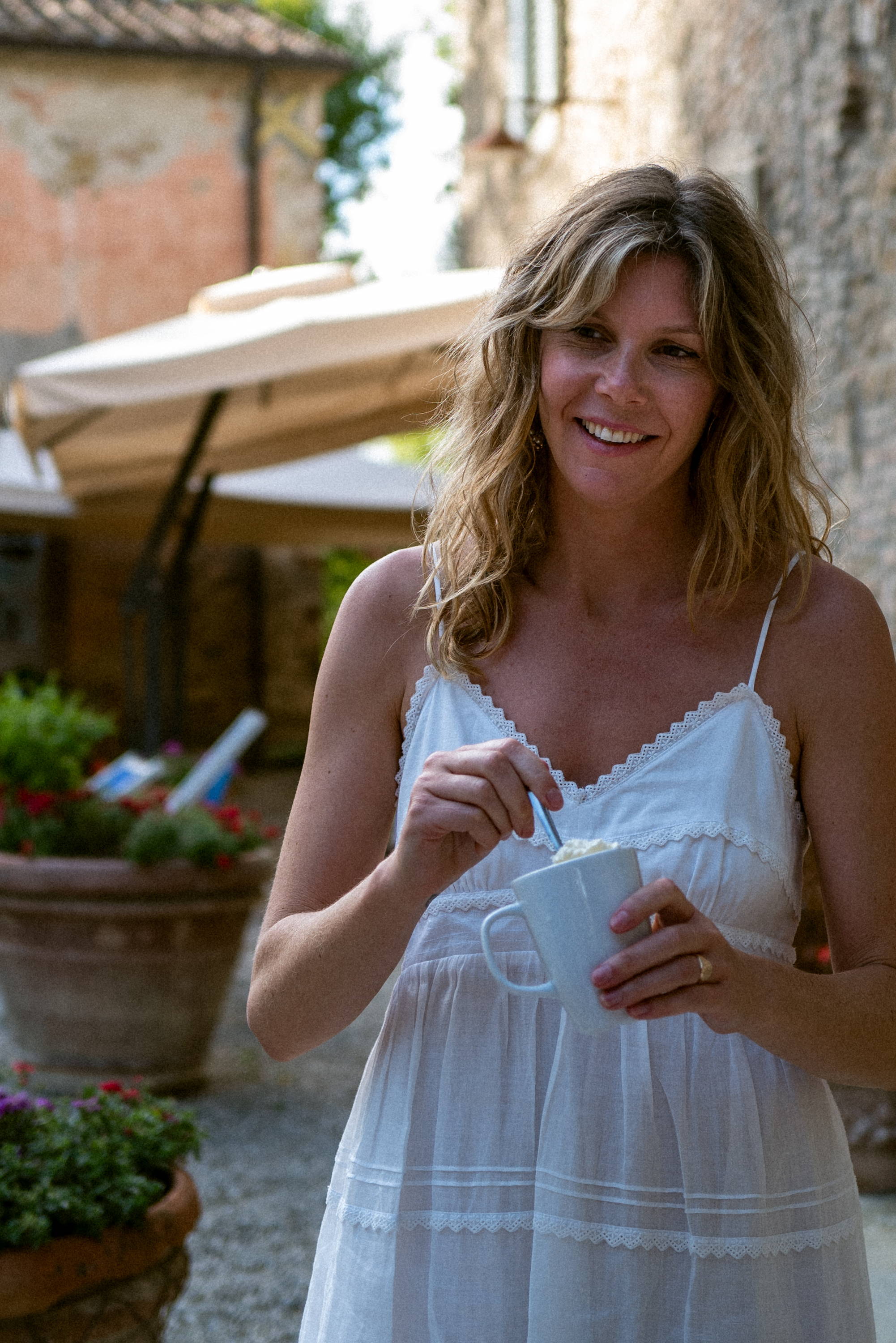 Tiny Peach & Almond Cookies with Ricotta Cream
There is something irresistibly appealing about these blushing little almond cookies shaped and painted to look like peaches and filled with ricotta cream. They are perhaps not the sort of thing you make every day, as they are a little fiddly, but, much like macaroons, they are exquisitely beautiful, dainty and feminine.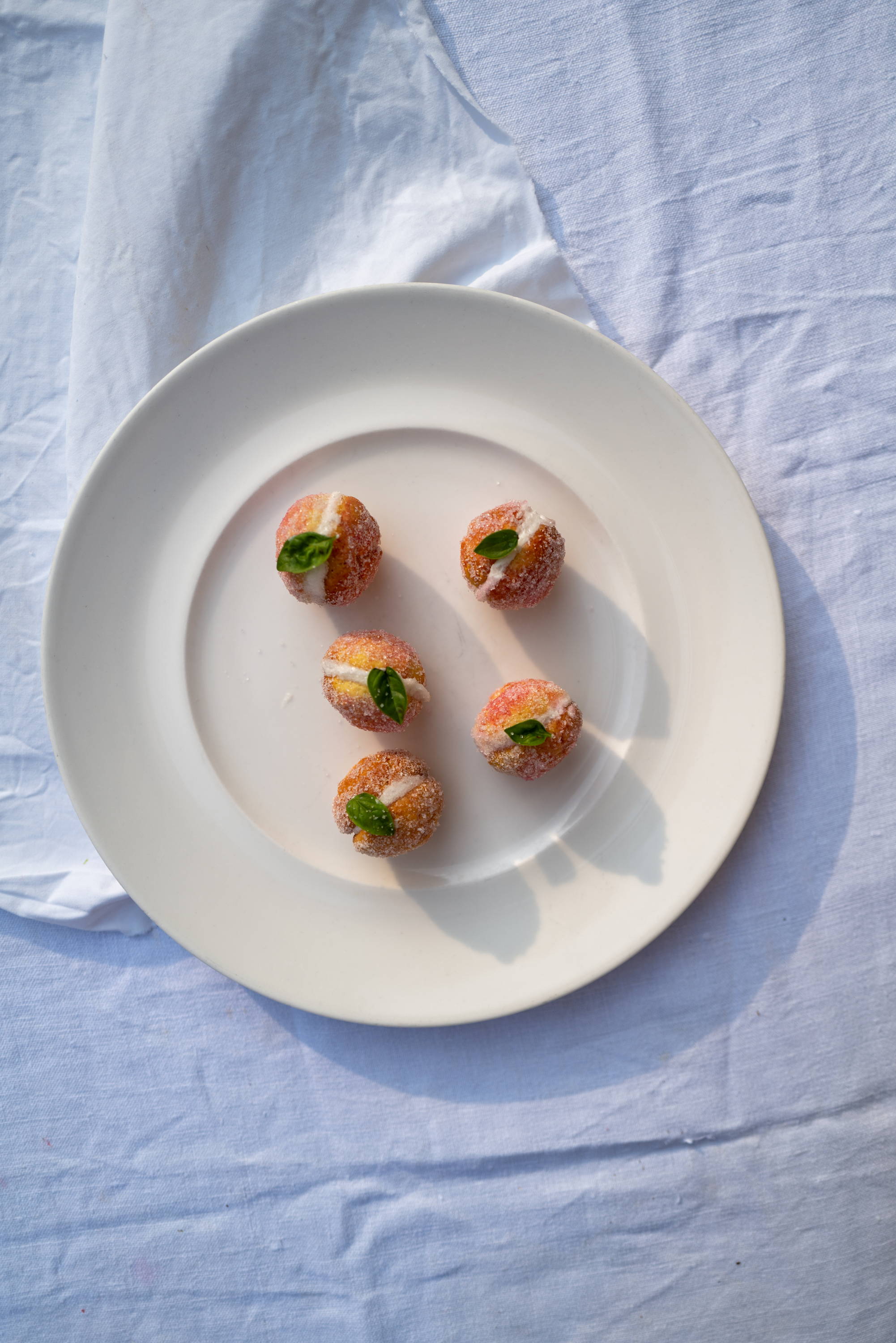 Recipe 
Makes 12-14 sandwiched cookies
For the biscuits
80 g (3 oz) butter
1 egg
80 g (3 oz/ ⅓ cup) sugar
80 ml 2 ½ fl oz/5 tbsp) milk
A pinch of salt
Finely grated zest of 1 large lemon
170 g (6 oz/ ⅓ cups) 00 or plain (all-purpose) flour
1 tsp baking powder
100g 3 ½ oz/1 cup) ground almonds (almond meal)
For the filling
250g (9 oz) ricotta
50g (2 oz/ ¼ cup) sugar
½ tsp vanilla extract
12-14 whole almonds (optional)
To decorate
100ml (3 ½ fl oz/scant ½ cup) Amaretto
Red food colouring or a splash of Alchermes
4 tbsp sugar
Mint leaves or fresh lemon verbena leaves
For the biscuits, melt the butter in a saucepan and set aside to cool slightly. Briefly whisk the egg and sugar in a mixing bowl to dissolve the sugar. Whisk in the melted butter and the milk, then add the salt and lemon zest followed by the flour, baking powder and ground almonds. The batter will seem relatively loose – halfway between cookie and cake, but that's fine. Allow it to rest for 5 minutes or so.
Preheat the oven to 180°C (350°F/Gas 4). Line a shallow baking tray (pan) with baking parchment.
Pinch off 24-26 teaspoon sized pieces of dough and roll them into smooth balls between the palms of your hands.
Place the balls on the prepared baking sheet a few inched apart and press them very lightly to flatten.
Bake the cookies for around 12 minutes, or until they still look pale on top but are golden underneath. Allow them to cool while you make the filling.
Whisk the ricotta in a bowl with the sugar and vanilla extract until smooth and creamy (the sugar will dissolve as you whisk).
Using a sharp knife, cut a small hole in the base of each cookie.
Spoon the ricotta mixture into the holes. If using the almonds, press them into the filling before sandwiching the cookies together. Smooth away any excess ricotta from the edges.
Pour the amaretto into a bowl and add the alchermes or food colouring to create a red tint. Pour the sugar onto a shallow plate.
Dunk the cookies briefly in the alcohol, turning them to make sure they are covered all over. (If you prefer you can apply the alcohol with a pastry brush, which will allow the cookies to stay crisper for longer.) Dip and roll them in the sugar, to replicate the downy skin of a peach, and then place a mint or lemon verbena leaf in each.
Serve, with pride.
Note: These will keep for a day or two in the fridge, and will soften slightly because of the alcohol.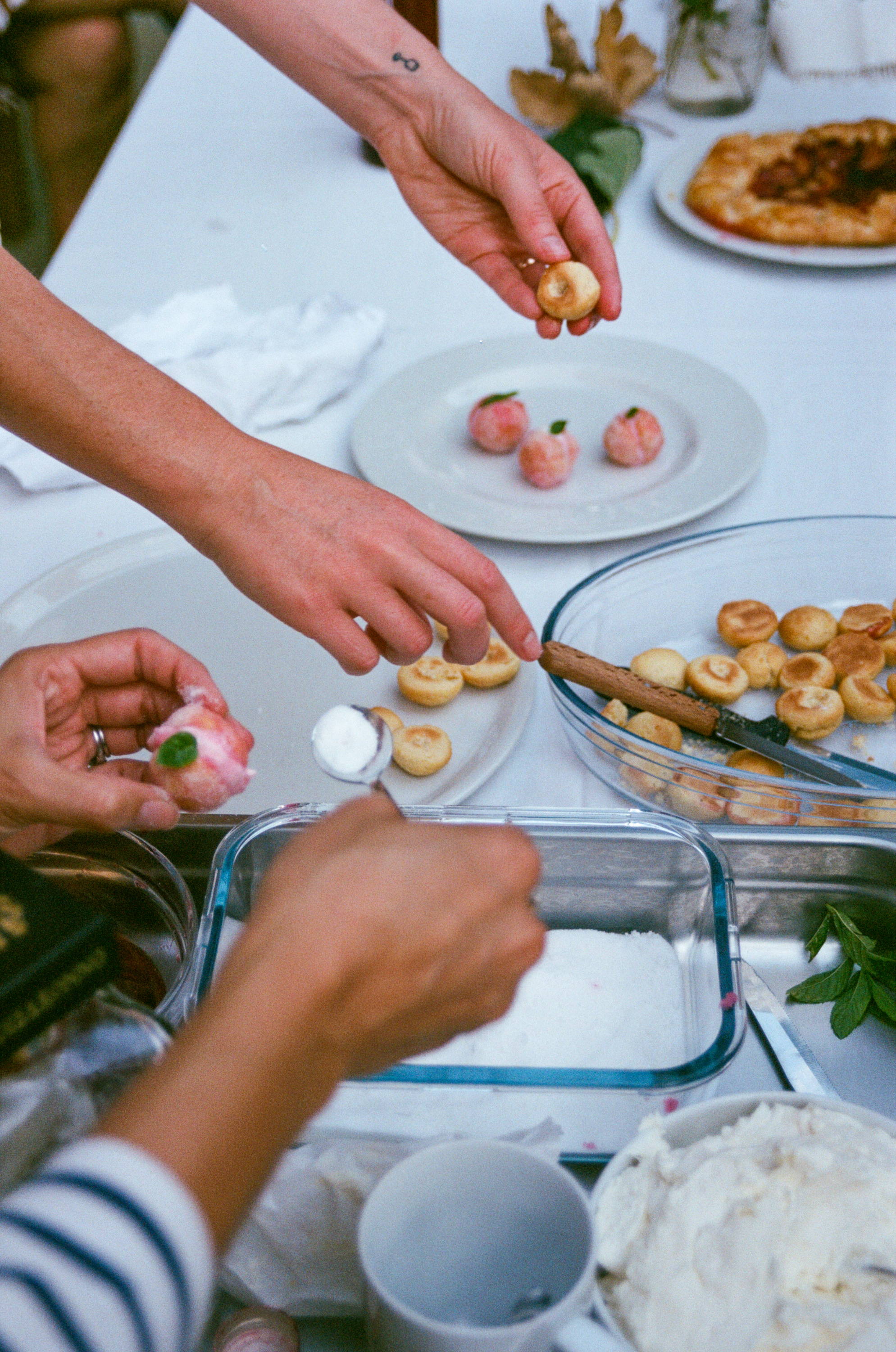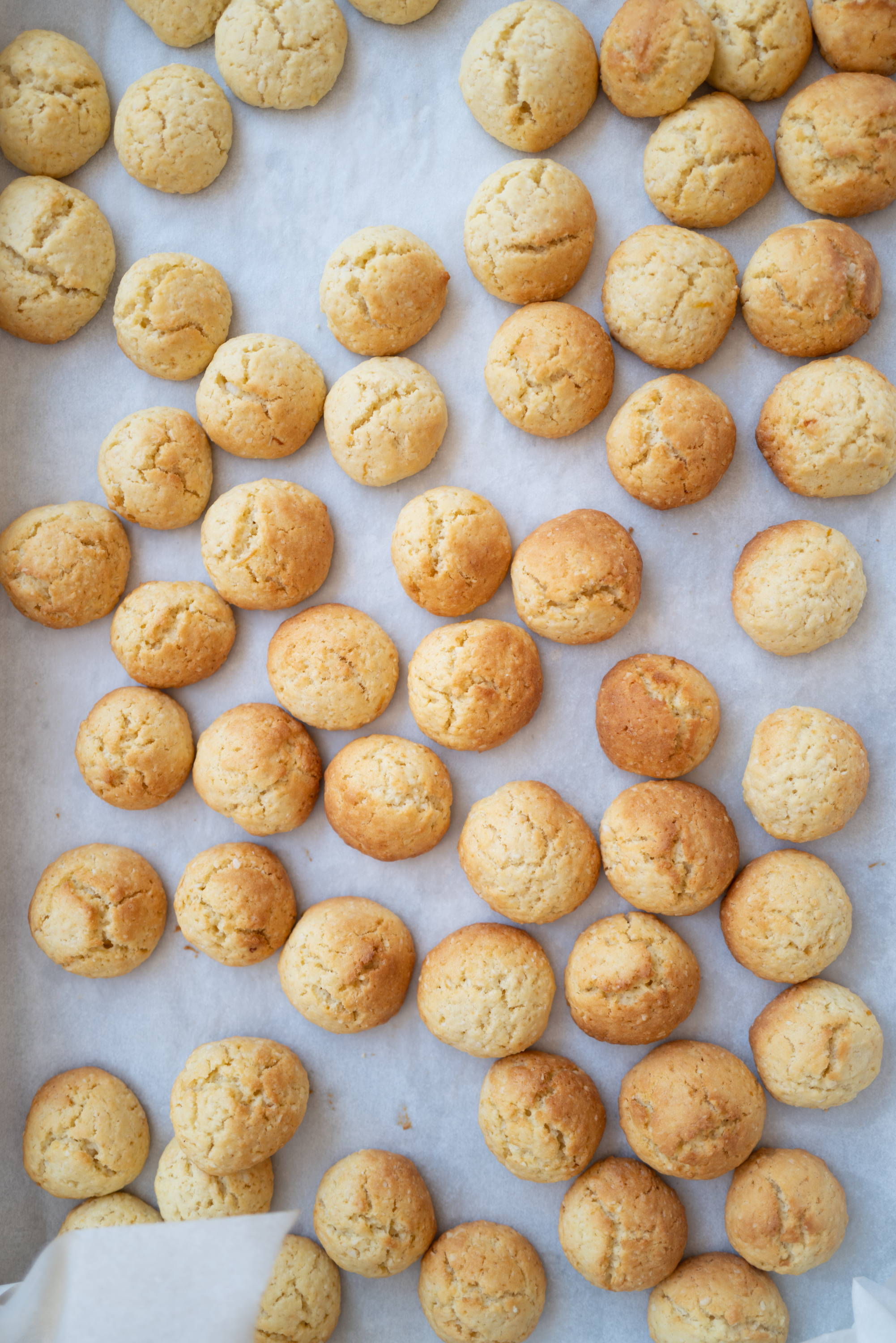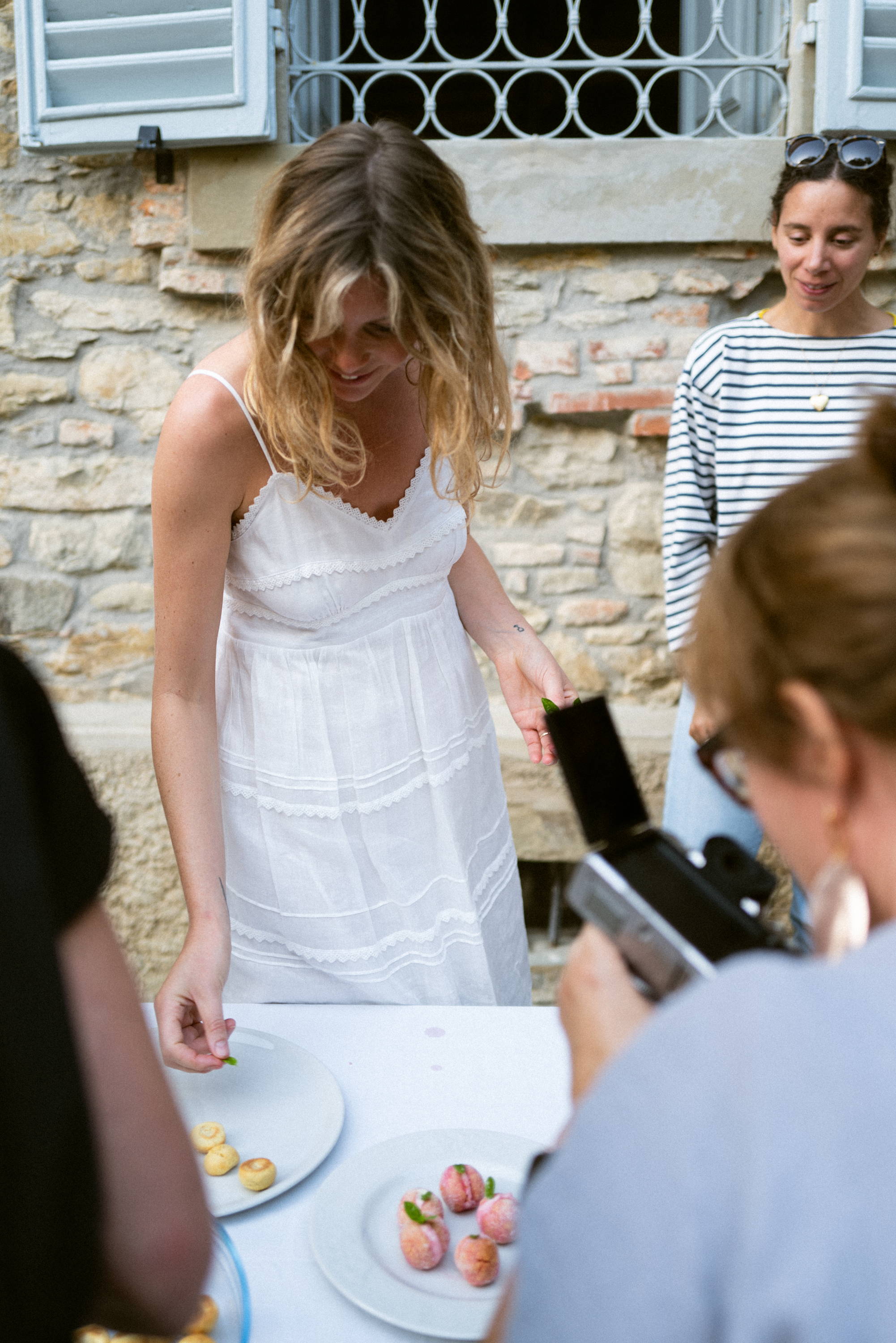 Fresh Fruit Galette/Crostata
This is really a riff on a French galette masquerading as a crostata, but if you have an abundance of good, ripe fruit it begs to be made into all kinds of tarts from all pockets and corners of Europe and beyond.
One of the best ways to eat fruit is to bake it in an open tart such as this one, the fruit cooks to Jammy sweet-sharpness, and the crispy, burnished pastry crust provides the perfect foil. The pastry has only a very little sugar in it, as most of the sweetness should be provided by the fruit. The crust acts as a pure, buttery, flaky contrast to the syrupy fruit it encases.
Galettes are a great, quick way of creating simple seasonal dishes, whether sweet or savoury, and are incredibly straightforward and forgiving to make and delicious to eat.
---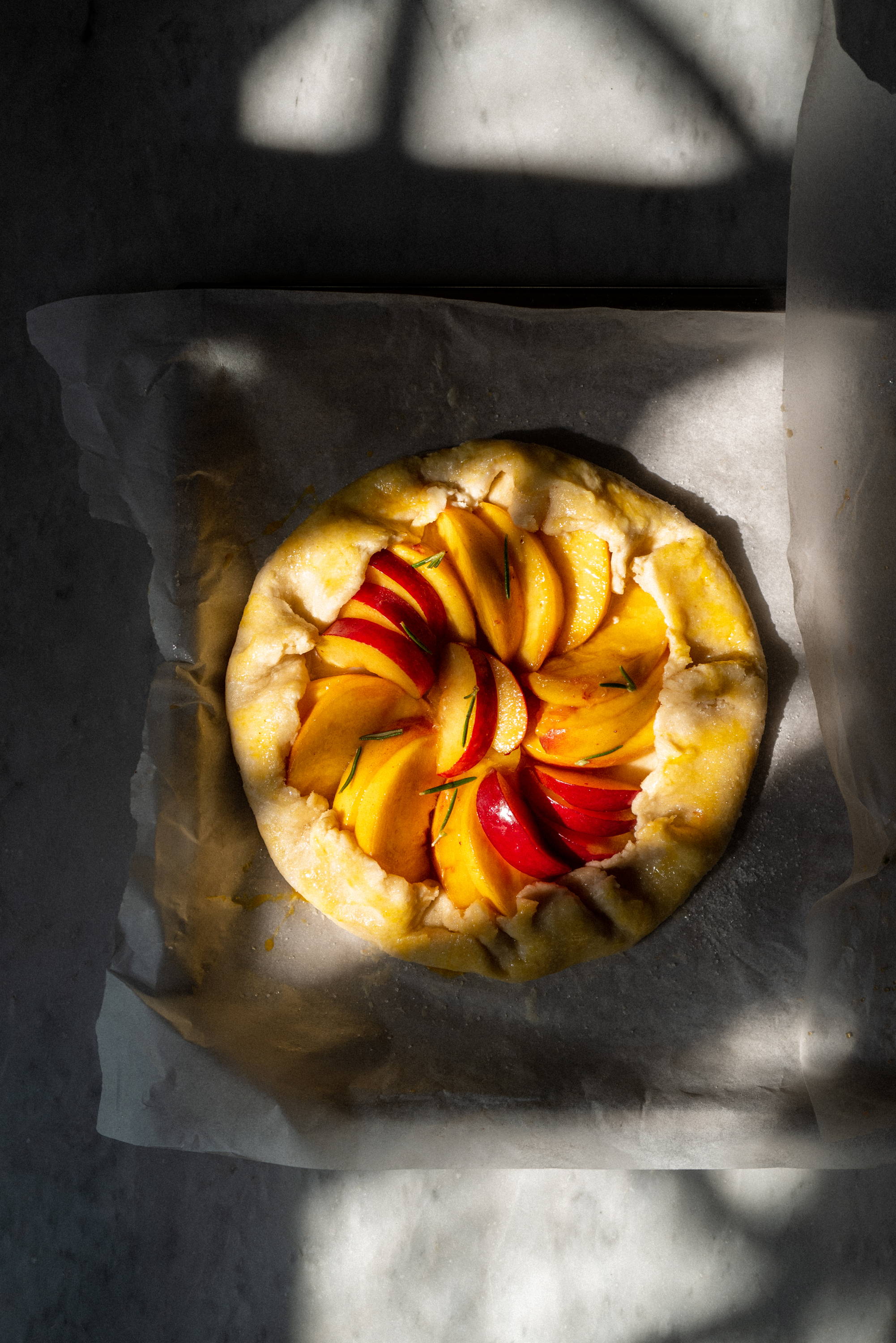 Recipe 
Combinations
There are so many good things to put in galettes, herbs and flowers to perfume/decorate are great too. Here are a few ideas to start you off….
Sweet
Blackberry & Fig (see recipe)
Peach & Rosemary
Peach & Rose
Peach & Almond
Peach & Amaretto
Apricot & Lavender
Apricot & Honey
Apricot & Orange Blossom
Raspberry & Rose
Raspberry & Redcurrant
Raspberry & Hazelnut
Raspberry & Fig
Apple & Walnut
Apple & Blackberry
Pastry
The pastry can also be flavoured with orange zest/fennel seeds/lavender/thyme/rosemary/brown sugars/vanilla etc. Leave out the sugar to make a savoury crostata as seen below…
Savoury
Tomato, herb & feta
Courgette & goat's cheese
Roast red pepper, basil & ricotta
Simple Galette Dough
Makes 1 medium crostata/galette, to feed 6-8
200g 00 flour/plain flour
160g cold butter, cubed
A good pinch of salt
2-3 tbsp sugar (1-2 for the dough and 1 to sprinkle) can also use demerara/light brown
50ml iced water
1 tsp lemon juice
Place the flour and salt into a large mixing bowl. Add the cubes of butter and toss them in the flour with your fingers making sure that they are all coated. Begin to press them into flat discs in your fingers, keeping tossing as you do so to make sure they stay coated in flour. Once all the cubes are now flakes, and well distributed through the flour, add the first tablespoon or 2 of sugar and the lemon juice and water. Bring the dough together with your hands (if it still looks too dry and flaky add a touch more cold water). It is quite a rough dough, so do not aim for smooth and even and shiny, but it needs to come together in one clean piece with no dry bits at all.
Pat it into a round, wrap it in clingfilm and leave it to chill for at least 40 minutes, in the fridge or freezer.
To Assemble
When ready to assemble the tart, roll the pastry out to a 3-4mm thickness (this is quite a rustic tart and the pastry is nice eaten quite thick).
Prepare your fruit (remove stones and cut into sections) and toss in lemon juice, lemon zest and 2-3 tbsp sugar. Other flavourings can be added (see above).
Scatter over the tart base leaving a rim of 2 inches. Fold and pleat the edges around the fruit to create a rough round.
Chill for 30 minutes. Glaze the pastry with beaten egg, sprinkle over the remaining sugar and bake at 180 for 35-40 minutes until golden brown and bubbling.
---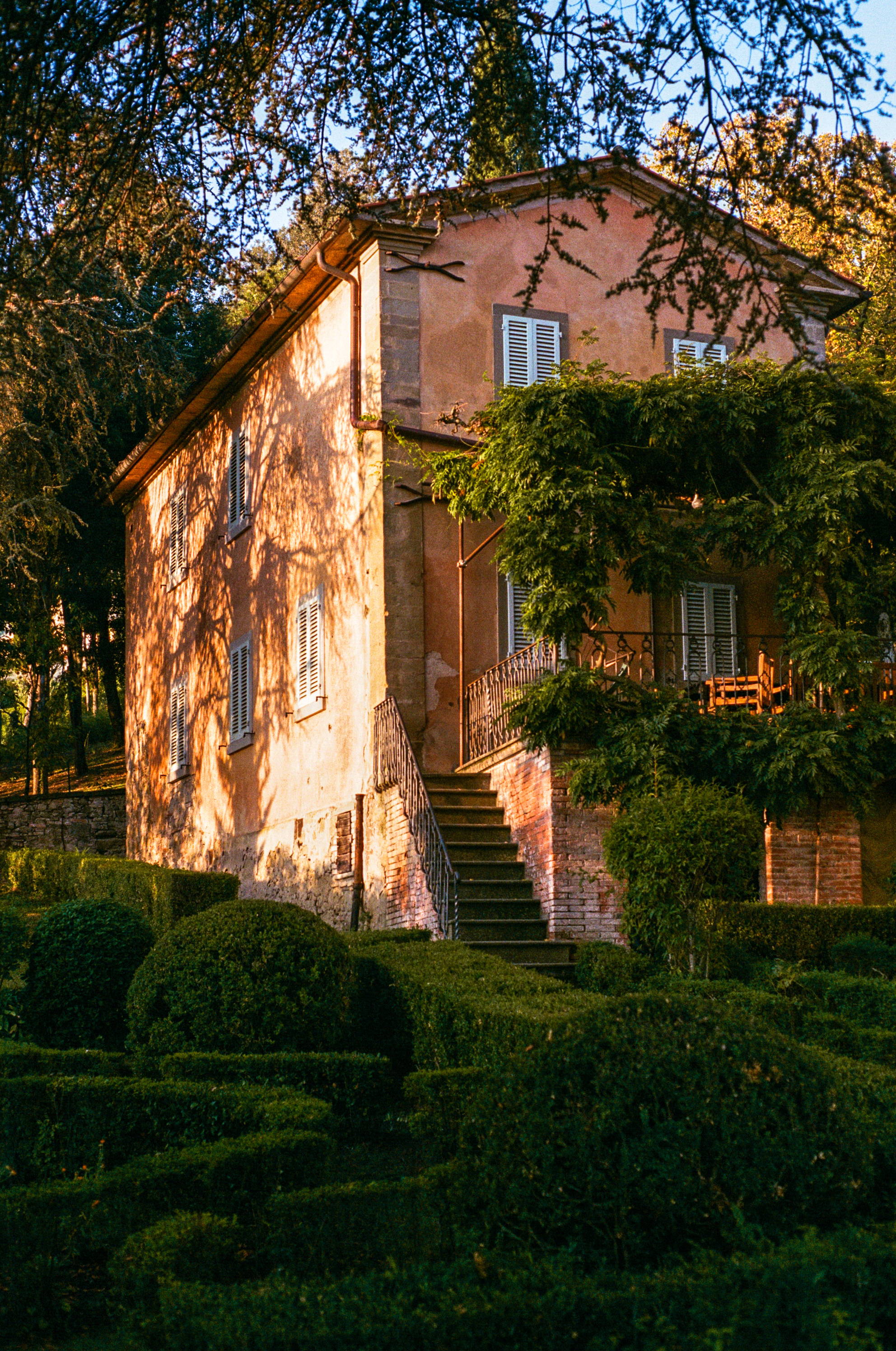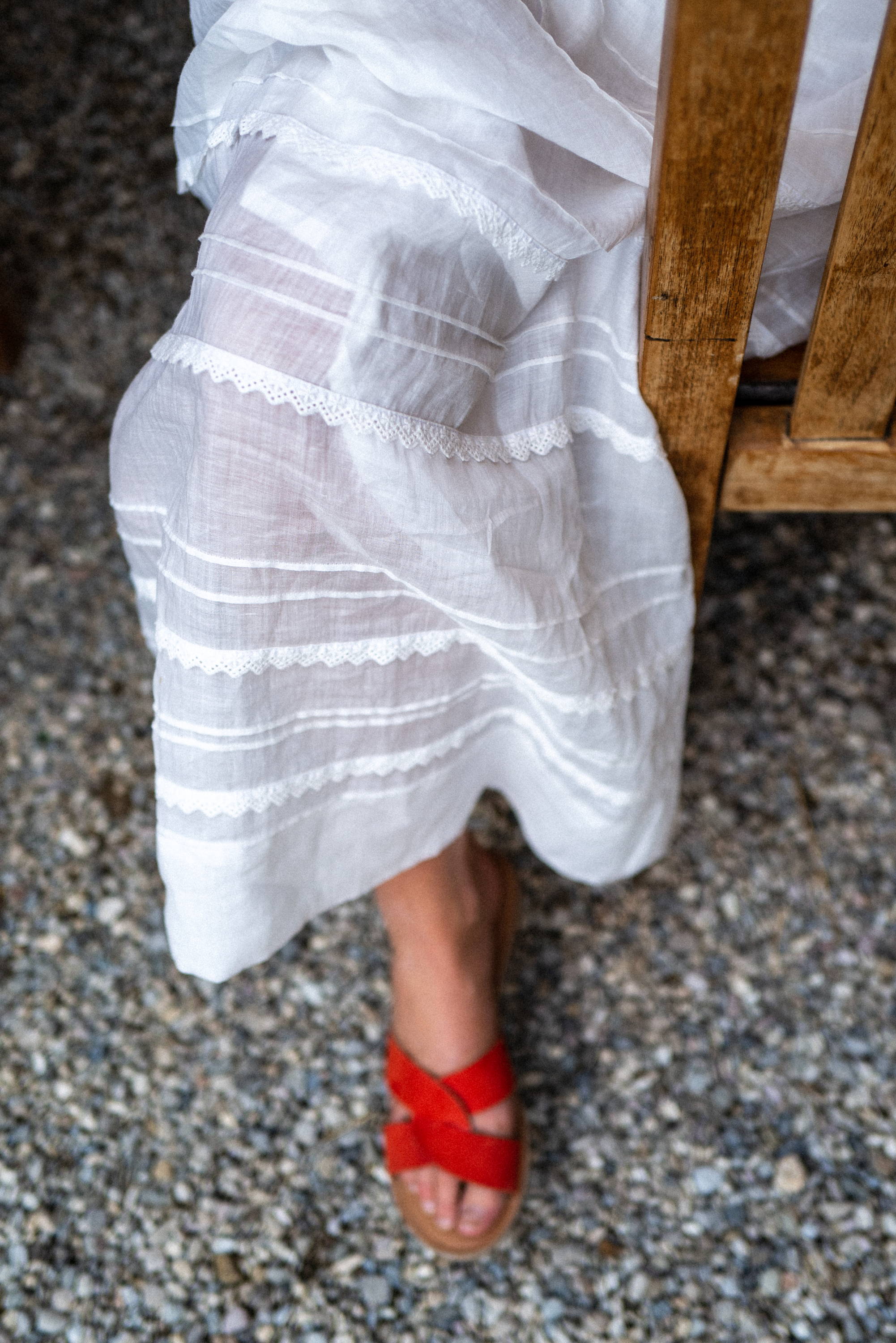 Discover more Italian-Inspired Desserts in Letitia's book 'La Vita È Dolce', available in Lee Mathews stores.
---
---
---